More than 4,000 brands trust in Speekly
Your product at your fingertips
Give your target group the content that convinces them to buy through UGC videos.
1.
Create task
A completed task in 5 minutes. Customize your UGC video by choosing the length, format and editing.
2.
Receive applications
As soon as your task goes live, suitable creators can apply. You can choose based on their setcard with application video, reference videos and ratings.
3.
Communicate via chat
Use the chat for an easy exchange with your creators. Get to know each other and talk about open questions and requirements for your video.
4.
Use your UGC video
Ready! You will receive your finished UGC video 7 days after the creators have received your product.
Over 9.000 UGC creators
Save yourself time-consuming sourcing! At Speekly, creators apply for your tasks - including profiles and sample videos.
Case studies
Read more about how top brands use UGC
How air up scales internationally with Speekly UGC
Read case study
How DR SMILE replaces influencers with Speekly
Read case study
Frequently asked questions
All important facts at one glance.
As soon as you registered for free on our UGC platform, you can place an order for your UGC video. As soon as your task has been activated, our creators can apply for it. You can then decide which creators you would like to commission based on application videos, reference videos and ratings. The creators will send you your finished UGC video no later than 7 days after receiving your product.

The prices of our UGC videos are scaled according to the desired video length and start at €79.

15 sec. = 79€
30 sec. = 99€
60 sec. = 119€

If you would like us to edit your video, you can book additional add-ons (subtitles or music = 19€, call-outs = 29€).
Of course, you can are also order additional material, such as further hooks, photos or the raw material. This is possible after commissioning the creator directly via the shared chat and is handled by our team via upgrade links.

As soon as the final video is submitted by the creator and accepted by you, the rights to the video are transferred to you. This means you can use it freely for your advertising purposes.

UGC reduces advertising costs and increases conversions.
Advertising is recognized within a few seconds and is swiped away before users even know what the ad is about. This phenomenon is called banner blindness. UGC videos counteract the resulting increase in costs in digital advertising.

They embed themselves in the user's feed through authentic creators and therefore do not stand out as advertising.
They show products in use and thus create trust and closeness.
UGC is an effective multiplier.
UGC videos have various other advantages, which you can find out about in our UGC Guide.

UGC refers to content that is created by users of a product or service. The focus here is on sharing experiences. UGC videos have become increasingly popular over the past year, as they blend into the organic flow of other content on social media and are not perceived as advertising. The acceptance of such advertising content has increased enormously as a result, which is why KPIs in marketing are improving significantly. You can read more about UGC in our Guide for User Generated Content.
Your first task
Register now and create a task for your first UGC video.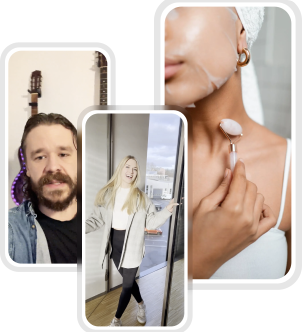 UGC videos starting at 79 €